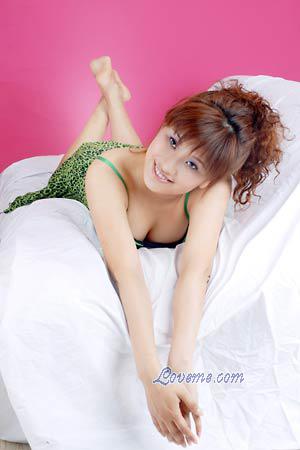 ID: 106869
Xiaosu
China
City:
AnShan
Age:
34
Birth Date:
9/29/1983
Zodiac:
Libra
,
pig
Weight:
114lb, 52kg
Height:
5'6", 168cm
Eye Color:
Black
Hair Color:
Black
Marital Status:
Single
Children:
None
Religion:
None/Agnostic
Smoker:
No
Drinker:
No
Education:
High school
Job Title:
Sports:
Badminton,jogging
Hobbies:
Traveling,Dancing,Singing
English:
poor
Languages:
Chinese (native)
Self Description: Sunny , optimistic and independent is my motoo, romantic life is i have been pursuiting, i never ask my friends or others do something that they wouldn't like to do, so all my friends said that i am a strong and kind woman, i like to make friends and traveling, at my leisurs time, i always go to travel with my friends, at the same time , i aslo like life , i hope that it is full filled with happiness and color, i think that i will search a right man for me and share my happiness life with me, i think that there will be a man are waiting for me in the other side of this world, i expect that day that we meet together, do you think you are my prince? if so, please contact me, ok?
Comments: about my match, first ,i think that he should be romantic , humor have sense of responsibility and honest for me, at the same time, he should have a kind heart and respect me and others, the important things is that he should be love me and want to live together with me in his rest of life.